Want to transform a dull humdrum room into something special? Installing a skylight could be the answer – skylights have the ability to provide 5 times more natural light than a window of similar size.
My kitchen was very dull, due to the fact the house next door was a two-story, which left my kitchen window in the shadows most of the day.
I decided to install a skylight for two reasons. First and foremost to allow as much light to enter the kitchen as possible. Second, to save on energy costs.
Installing a skylight will reduce the use of electricity in any season. In summer you can reduce your air conditioning expenses by allowing the hot air in your room to rise and escape through your skylight.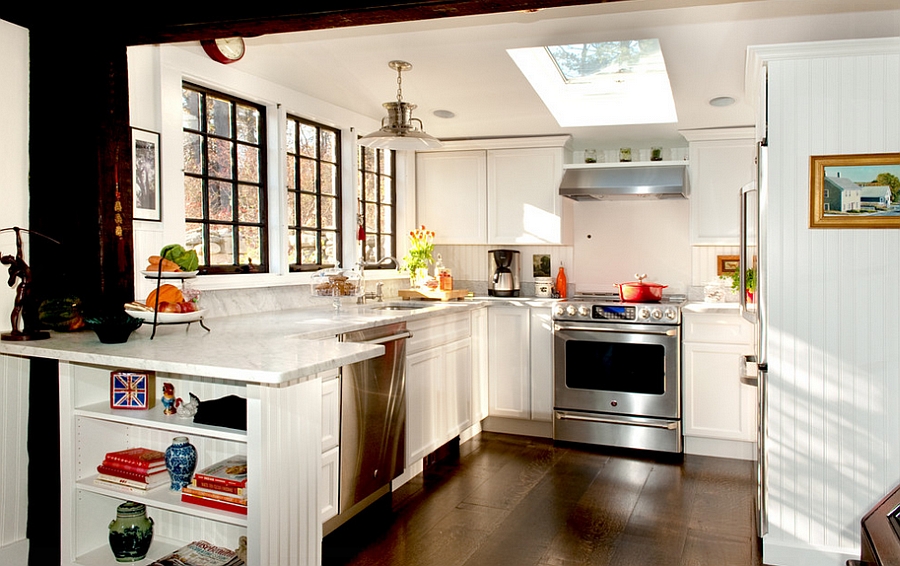 The placement of your skylight is determined by your homes rafters. So you may want to have a blueprint on hand before beginning your project, so you can predetermine your skylights placement.
What type of skylight you choose depends on your preference . There are basically four categories and each one has it's own benefits.
Fixed skylights, This is the most basic of all of them, it cannot be opened as it is sealed in the factory. It is considered leak-proof and you do get the benefit of natural light.
Roof windows, These skylights are best used in any room with a wall being part of the roof. Such as an attic, an above the garage bonus room or a loft.
Manuel venting skylight, this one offers fresh air on demand. And can be opened with the aid of electricity or manually if you prefere.
Electric venting skylight, an advantage to an electrical skylight is you can purchase the type that automatically closes at the first drop of rain.
If you are good at carpentry you may wish to install a skylight kit that you can do yourself. If not you will have to seek the help of a reputable professional.
Start from the inside, after removing the sheathing, drive four screws in the corner of the box outline that you have previously marked. This will make it easier for you to find from the roof.
Remove the shingles until the marked opening from the screws becomes exposed. Attach waterproof flashing to the flashing that comes with the kit, this will divert rain and ice away from your skylight.
Be prepared to put up some drywall and insulation, this will cut down on condensation. Before you know it you will have a beautiful skylight illuminating your home.
Most skylight kits come with complete instruction and diagrams. If you follow these instructions carefully you should have no trouble installing your new skylight.